The EI Guru Podcast
The purpose of this podcast is to create a deeper level of awareness of the critical role emotional intelligence plays in being an exceptional leader.
We've all seen that the greatest athletes on the planet have invested in coaches to develop their mindset, so that when they're competing under extreme pressure, they can tap into their best when they need it most. In the corporate world, we call this being emotionally intelligent.
So as a leader, when you're under extreme pressure, you are able to be present and deliberately leave a positive fingerprint in every interaction.
I will be interviewing leaders and experts in the field of emotional intelligence.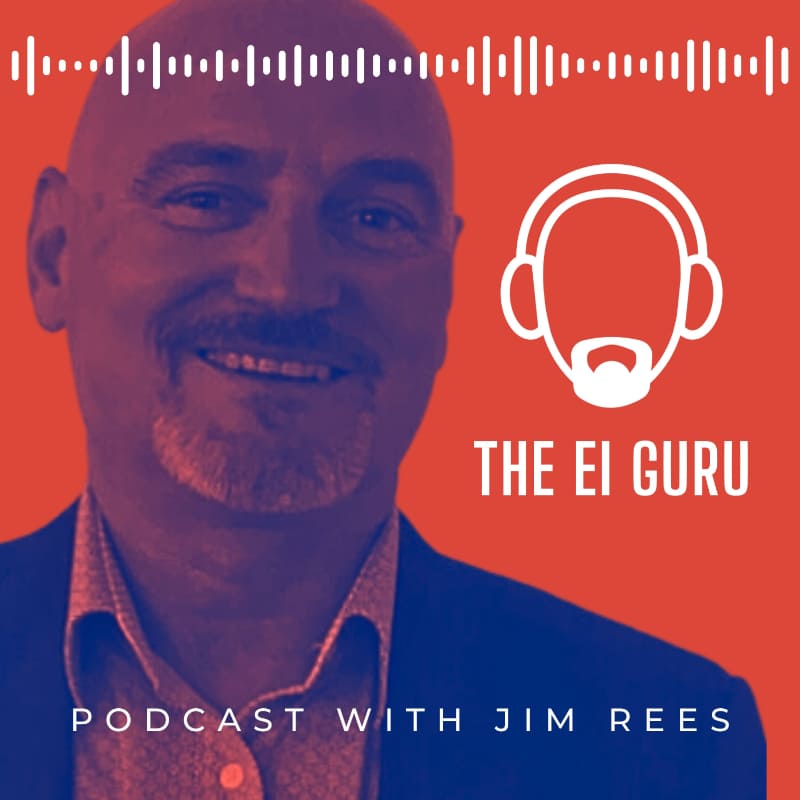 Listen Now!
In this episode I'm joined by Jo Maddocks who co-created the Emotional Intelligence (EI) model that I've been using for the past 20 years when working with leaders either 1:1 or with their teams to develop their EI. We talk about the core 6 quadrant framework that supports the 16 scales and share our view of what Emotional Intelligence is and how it's formed from our early conditioning.
In this episode I explore with Dr Jo Maddocks some of the how to tips that you can use to enhance your Self Regard. We also look at the Self Awareness and Awareness of Others scales in more detail.
Given that all change and growth comes from understanding our patterns of behaviour, I'm sure this episode will be helpful in understanding the different emotions / feelings and how they can impact on our behaviours.
In this week's episode, I'm joined by Ex-professional rugby player Jamie Davies who now runs a successful personal training/coaching business.
I was keen to explore the role that mindset played in his 12 year career (8 years as a professional) and find out what his advice would be for anyone attempting to achieve their goals in life.
Jamie is very open and transparent in this interview and I'm sure you'll get a lot from this episode.
In the latest episode, I'm joined by Caroline Stokes who is an Executive Coach, Business Consultant and author of Elephants before Unicorns which looks at Emotionally Intelligent HR strategies to save your company.
Caroline is passionate about how emotional intelligence can be used to recruit the right people and coaches individuals in their first 100 days to ensure that the new person transitions into their new role and new culture.
In this episode, I'm joined again by Dr Jo Maddocks and look at the first 3 self management scales that are so deeply connected with performance.
Emotional resilience, Personal power and Goal directedness and when these 3 aspects of EI are strong, it's like having super powers to support you when handling any curve balls that are thrown at you personally or professionally.
This is a must listen to episode if you're looking for ideas of how to overcome setbacks and take more charge of your life and career and set clear goals to achieve what you want in life.
In this episode I'm joined by Ian Eggs who is a vice president working in a multi-cultural international organisation.
Ian has shared his leadership nuggets from his leadership journey spanning 40 years across various multi-cultural and global organisations.
If you want to understand what exceptional leadership looks like and how to nurture this within yourself and build a high performing team, this episode will give you that and plenty more......
In this latest episode I'm joined by Jessica Pryce-Jones who is a Psychologist & Coach working in the corporate world.
Luckily, this interview is a pre-launch interview for her new book Intuition at Work which will be available in the new year, so we get to hear all about how we can develop our own intuition before the book comes out.
Jess started her career in finance where she learned about numbers, strategy and leadership.
After 10 years in the corporate world, Jess did a psychology degree; as she wanted to understand why some of her bosses were brilliant and others were frankly dismal.
Those insights launched a new career facilitating, coaching, designing interventions and writing.
Coachees and delegates feedback that Jess is warm, funny, challenging and rooted in practicality. Most importantly, she believes in using hard, soft, and intuitive information to get to the heart of complex and opaque professional issues.
Tapping into this different knowledge gives fresh insight into how to solve problems, particularly around our worries and our work.
Her clients include multinationals in health care, professional services, FMCG, banking, creative, education, manufacturing, publishing and engineering industries as well as the public and not-for- profit sectors.
Jess has also worked as adjunct faculty in leadership development at many business schools including Cambridge Judge, Cass, Cornell, Chicago Booth, Cranfield, London Business School, and Saïd (Oxford); and is a Fellow of Harvard's Institute of Coaching.
Finally, Jess has published two books ( and ) and has finishing a third, Intuition at Work.